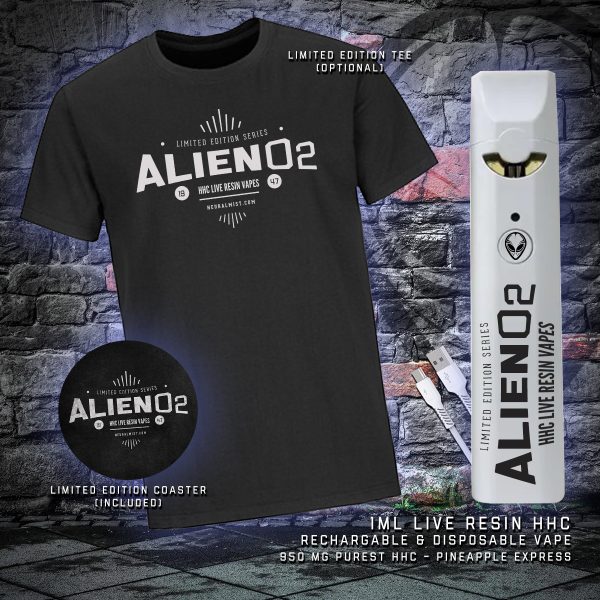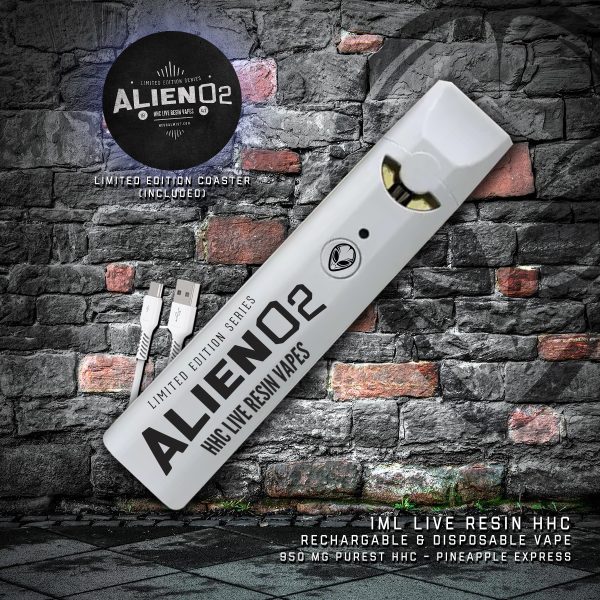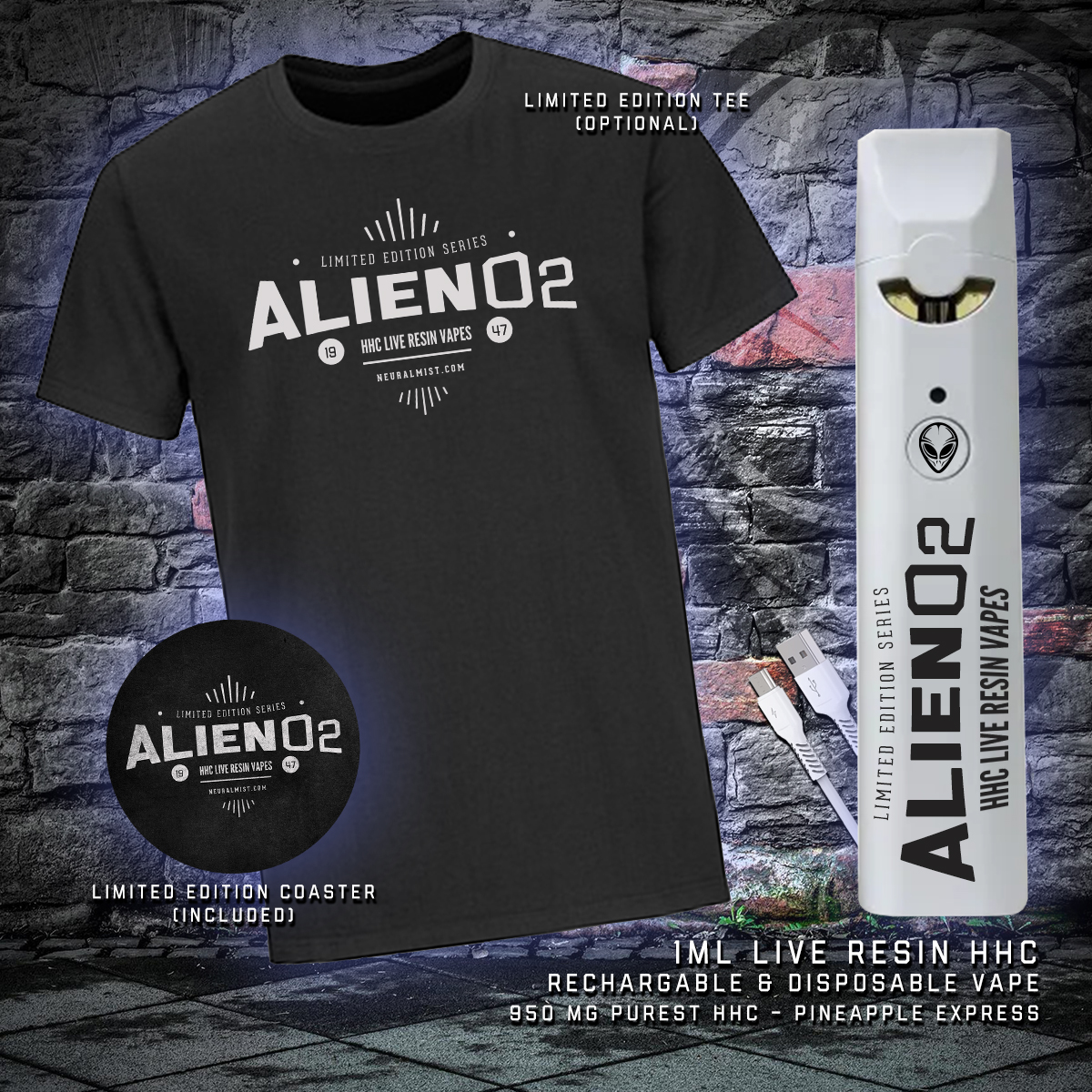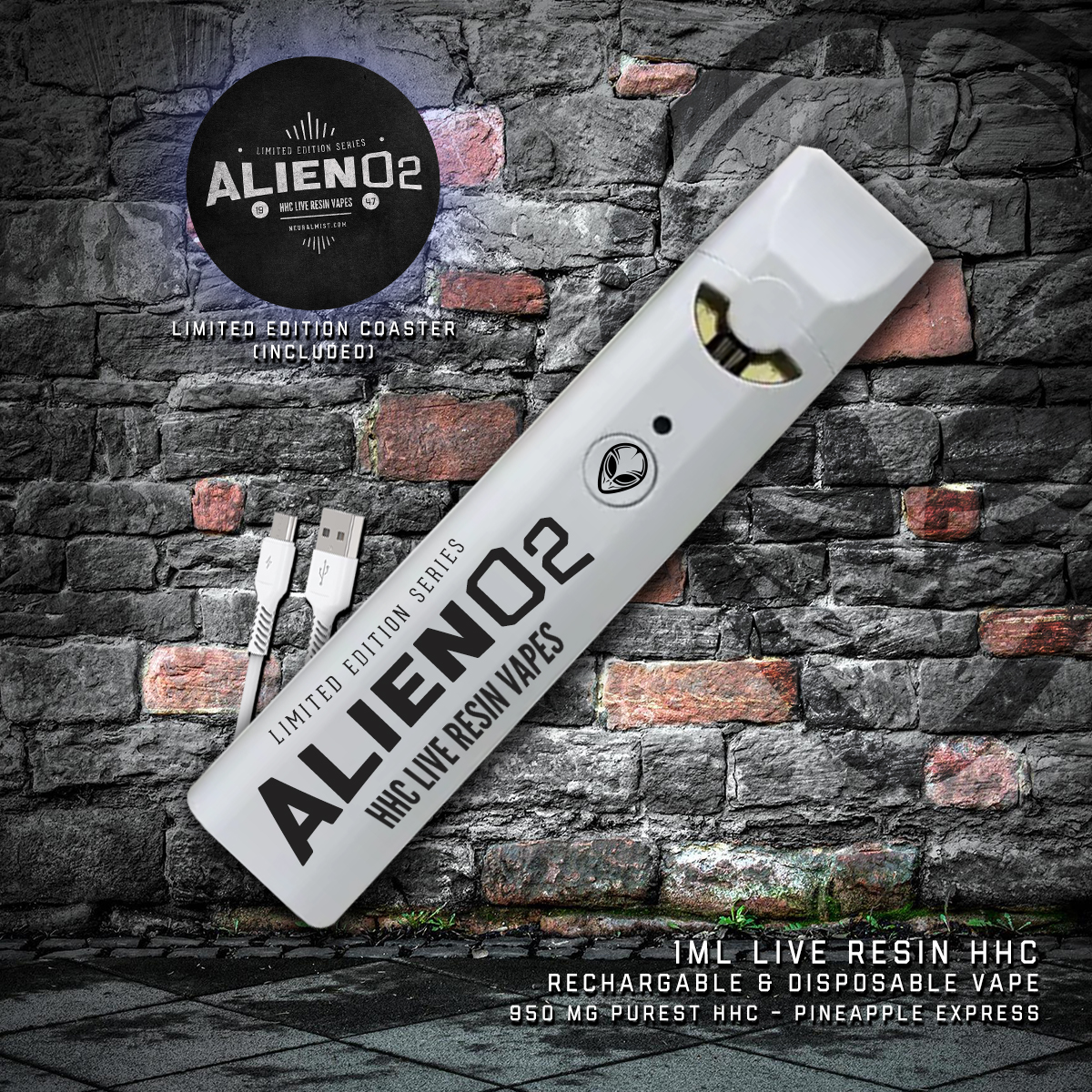 HHC LIVE RESIN VAPE – 950 MG Pineapple Express – ALIEN OXYGEN™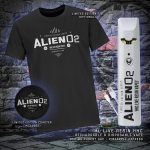 HHC LIVE RESIN VAPE – 950 MG Pineapple Express – ALIEN OXYGEN™
$45.00
$45.00
PRE-ORDERS ACCEPTED NOW: All Orders Begin Shipping April 5th, 2023!

950mg Limited Edition ALIEN OXYGEN™ 1st Release, in Pineapple Express Hybrid

Live Resin HHC Disposable Vape is your regular HHC vape but packed way easier and tastier. It has the right blend of high-potency HHC distillate and live resin terpenes, giving you flavorful, powerful, smooth draws.
Each puff promotes a sense of calm and soothes restless thoughts. You can feel the effects immediately, letting you drift into your own zen space anytime you feel like taking a break.
Rechargeable. So when the battery runs out, relax! Charge them up, and you can use them in every last drop.
Net weight: 1ml
No Delta-8/9 THC
No additives or fillers.

No Vitamin E. No VG, PG, PEG, or any other cutting agents.
Description
Dosage Guide
Additional information
Reviews (9)
Description
LIMITED EDITION LIVE RESIN HHC DISPOSABLE VAPES
Our Limited Edition Live Resin HHC Disposable Vapes have everything built-in for a discreet de-stressing moment. We formulated the perfect amount of live resin terpenes into our potent HHC Distillate to give you a really terp-y and powerful, yet not too overwhelming, HHC high. If you are traveling or just don't have the time and resources to set up your own vape, this product is for you. Turn it on, use it up, and when it's all dried up, you can throw it away.
No need to worry when the battery runs out and there is still some left. You can charge it using a Micro-USB (included).
Live resin terpenes are extracted from fresh or unprocessed hemp plants that have been flash-frozen right after harvest. It has not been dried or cured, so it keeps most of the hemp's cannabinoids and nuances. HHC is often the choice cannabinoid of many who are looking for a potent punch. HHC is produced from hemp but has to be created in a lab.
And so we created the Live Resin HHC product line that lets you indulge in HHC while also experiencing real plant savor and aroma. This disposable vape cart is sleek and small enough to fit in your pockets or purses. This portable design makes it your perfect companion for chill and energetic vibes. Take this with you whenever you need to hang out with friends or when you want to simply relax before bedtime.
WHAT'S INSIDE THE ALIEN OXYGEN™ Limited Edition Kit?

One (1ml) 950mg Live Resin HHC Rechargeable/Disposable Vape
50+mg of Live Resin PINEAPPLE EXPRESS Terpenes
One (1) Micro-USB Cord
One (1) Limited Edition ALIEN OXYGEN™ Drink Coaster
Fully Hemp-Derived Ultra Pure HHC
WHAT INGREDIENTS ARE NOT INSIDE?
NO

Vitamin E

NO

Artificial flavors

NO

Sweeteners

NO

THC (Delta-8/9 THC)

NO

VG, PG, and PEG

NO

MCT (Medium-chain triglycerides)

NO

fillers, additives or cutting agents
Our finished products are strictly regulated by third-party, accredited laboratories to make sure our products are true to label and contain zero contaminants and impurities. Every batch of our Live Resin HHC Disposable Vape is backed by a Certificate of Analysis (COA) which you can ask us anytime you have doubts. We promise the highest standards of quality and safety to our customers at every stage of production, from the sourcing of raw materials to the last touches.
Our disposable vape pens are made with overall safety in mind. They come in a sturdy plastic exterior to prevent accidental breaking of the ceramic coil interior, which houses the vape liquid. It has a button that lets you adjust the voltage, allowing you to control the intensity of your draws. It also includes a preheating feature and a visible oil window. To save battery, you can turn it off when it is not in use.
3 TEMPERATURE SETTINGS
On/Off Function
5 clicks to power on/off
Pre-Heat setting
2-clicks for a 10-second warm-up
3-clicks to change settings
Low(blue), Med(green), High(red)
LIVE RESIN HHC DISPOSABLE VAPE: IMPORTANT NOTES
All HEMPTIUM™ products are derived from 100% legal industrial hemp.
For adults with age 21+ only. Keep out of reach of children.
This product may be intoxicating to some people.  DO NOT DRIVE OR OPERATE ANY MACHINERY WHILE USING THIS PRODUCT.
No products are produced, manufactured, marketed, or distributed with the intent of diagnosing, treating, curing, or preventing any disease.
Consult your doctor if pregnant or breastfeeding, or if you suspect or know that you have heart conditions, blood pressure, eye pressure, or similar/related issues.
HEMPTIUM™ is not responsible for knowing whether or not this product is legal in your state or territory. You are fully responsible for all parts of your purchase. We keep the right to not ship to any states or territories where local laws may conflict with the 2018 Farm Bill.
Additional information
| | |
| --- | --- |
| Weight | .4 lbs |
| ADD TEE | MED, LARGE, X-LARGE, XX-LARGE |