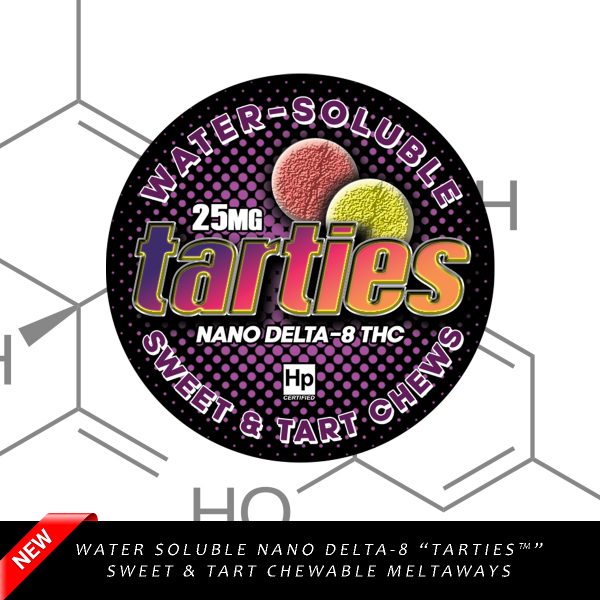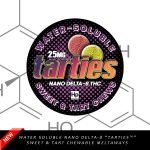 WATER SOLUBLE DELTA-8 NANO 25mg "TARTIES™" Sweet & Tart Chews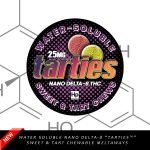 WATER SOLUBLE DELTA-8 NANO 25mg "TARTIES™" Sweet & Tart Chews
$9.95 – $36.95
$9.95 – $36.95
Now Available Without a Rx ~ The Newest Hemp-Based Therapeutic to join the HEMPTIUM™ Nano Family, are our specially formulated NANO DELTA-8 TARTIES­™ Chewable Sweet & Tart Candy. These TARTIES™ provide numerous therapeutic values for human health, specifically acting on the endogenous CB1 receptors in mammalian nervous & immune systems.
PRODUCT HIGHLIGHTS:
6, 12 & 30 Packs of 25mg D8 TARTIES™

Strawberry & Lemon Rush Natural Flavors (asst)
Isomerized From Industrial Hemp (CBD Isolate)

HEMPTIUM­™ Advanced Formula Delta-8 Distillate

Infused For Consistency…Never Sprayed Like Other Brands

Great Tasting, Long Lasting Therapeutic Experience

All-Natural Organic Flavors & Composition!

Psychoactive (non-addictive/non-habit forming)
Description
Dosage Guide
Additional information
Reviews (12)
Description
The "Official" HEMPTIUM™ Water Soluble Delta-8 NANO "TARTIES™" are made with pure Nano Delta-8 powder and contain no preservatives. Precisely measured & pressed into Ultra Fast Acting Sweet & Tart Chewable Meltaways.
IMPORTANT >> These Nano D8 "TARTIES™", are our Most Powerfully Effective & Rapidly Active edibles at the current time. Please begin your regimen slow and build up your tolerance slowly for the most pleasurable experience possible!
IRRESISTIBLE THERAPEUTIC EFFECTS! For those new to the world of Delta-8, we at HEMPTIUM™ ask you to begin slow and let this amazing chemistry take full effect before consuming more. Full effect onset time is typically at two (2) hours after consumption, with early effects being felt at one (1) hour. Delta-8 is psychoactive, so please use responsibly!
Shipping Exclusions
Due to Delta-8 THC either being illegal or not explicitly legal according to state laws, this product does not ship to the following states: Alaska, Arizona, Arkansas, Colorado, Delaware, Idaho, Iowa, Mississippi, Montana, Rhode Island, Utah and Vermont. For all sales inquiries, please call or text HEMPTIUM™ at 531-500-2201.
What is Delta-8 THC?
Delta-8 THC (Δ8 THC, delta-8-tetrahydrocannabinol) is an isomer of CBD found in industrial hemp. While Delta-8 THC and Delta-9 THC have similar names, they are different compounds with different characteristics. According to the National Cancer Institute, Delta-8 is defined as "an analogue of tetrahydrocannabinol (THC) & Isomer of Cannabidiol (CBD) with antiemetic, anxiolytic, appetite-stimulating, analgesic, and neuroprotective properties. [Delta-8-THC] binds to the cannabinoid G-protein coupled receptor CB1, located in the central nervous system. This agent exhibits a lower psychotropic potency than [delta-9-THC], the primary form of THC found in cannabis."
What is the effect of Delta-8 THC?
Delta-8 THC gives a very clear-headed, engaged high, with zero anxiety or fogginess. While it can alter and elevate your mood, it is far less intoxicating and much more functional without the paranoia associated with Delta-9 THC. Our customers also reported the following:
Body High Euphoria
Clear head
Calm
Focus
Happy
Motivated
Relaxation
Anti-nausea
Spike in Libido
Current Legal Status
HEMPTIUM™ Advanced Delta-8 Pure Nano TARTIES™ are 100% derived from legal industrial hemp and thus are currently legal according to federal law and many state laws. However, HEMPTIUM™ is not responsible for knowing whether this product is legal in your state or territory. You assume full responsibility for all parts pertaining to your purchase. We retain the right to not ship to any states or territories where local laws conflict with the 2018 Farm Bill.
Additional information
| | |
| --- | --- |
| Weight | .4 lbs |
| Dimensions | 6 × 4 × 1 in |
| QUANTITY | 6 COUNT, 12 COUNT, 30 COUNT |