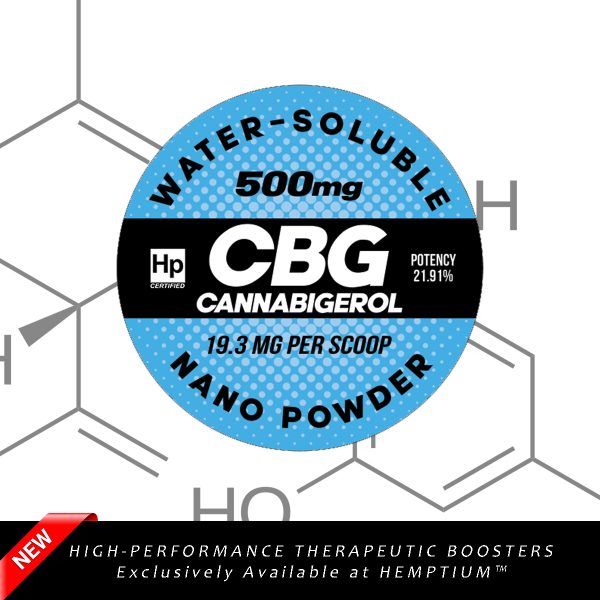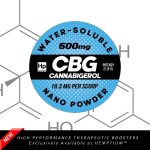 Water Soluble NANO CBG Powder | CHILL & FOCUS | HEMPTIUM™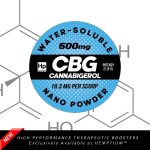 Water Soluble NANO CBG Powder | CHILL & FOCUS | HEMPTIUM™
$45.00
$45.00
HEMPTIUM™ Presents Our NEW WATER SOLUBLE NANO CBG POWDER, with an ultra high potency beyond 21% & bioavailability greater than 95%, this rare cannabinoid is known as the "Mother of All Cannabinoids!"
This New Water Soluble Nano Powder is instantly miscible in any liquid, and is great for mixing accurately dosed drinkable shots any time of the day. Our clients report significant enhancements to cognitive focus, greater feelings of body wellness and decreased stress.
NEW NANO FORMULA (11-14-2022)



Mixes instantly in liquids

95%+ Bioavailability (epithelial absorption)

21.91% Bioactive Potency

Dynamic Cannabinoid Profile

A Super Therapeutic Formula

Includes FREE 2oz Mixing/Shot Bottle!
Description
Dosage Guide
Additional information
Reviews (8)
Description
CANNABIGEROL (CBG) | Water-Soluble Nano Powder
Molecular Structure: C21H32O2
Final Form: Water-Soluble Nano-Emulsion Powder
Bioavailability: +95%
Potency (COA): 21.91%
"CBG is one of the major cannabinoids found in most Cannabis varieties. It has shown relevant antibiotic effects,206 and could decrease intraocular pressure.207 CBG has been called 'inactive' when compared to THC, but it has slight affinity for CB1 receptors, approximately equal to that of CBD.90 Like CBD, it has analgesic and anti-inflammatory properties, indicating that there is scope for developing cannabinoid drugs that do not have the psychoactive properties of THC.208 In one study,209 CBG was evaluated for antitumor efficacy against mouse skin melanoma cells and showed a significant in vivo activity using an methylthiazoltetrazolium (MTT)-based cell viability assay.
Of several cannabinoids tested, CBG had the strongest potency to inhibit platelet aggregation.210"
~ Source: Arno Hazekamp, … Renee L. Ruhaak, in Comprehensive Natural Products II, 2010
Additional information
| | |
| --- | --- |
| Weight | .2 lbs |
| Dimensions | 2 × 2 × 2 in |