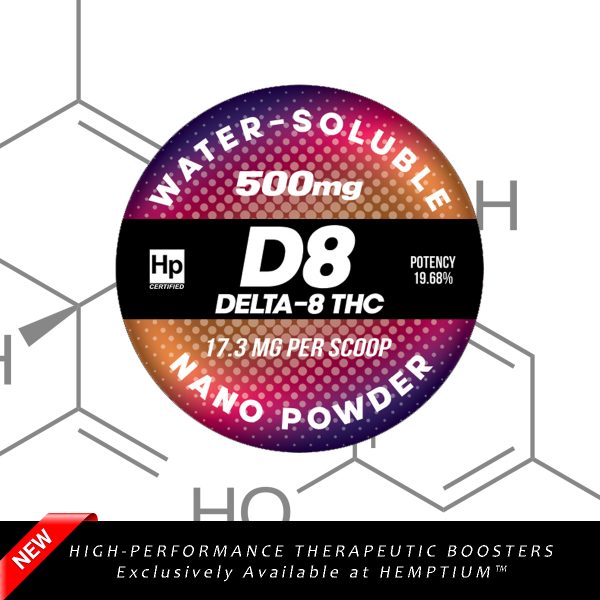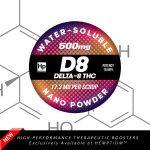 Water Soluble NANO DELTA-8 Powder | CLEAR EUPHORIA+ | HEMPTIUM™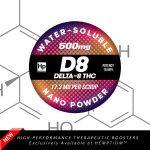 Water Soluble NANO DELTA-8 Powder | CLEAR EUPHORIA+ | HEMPTIUM™
$39.95
$39.95
HEMPTIUM™ Presents Our NEW WATER SOLUBLE NANO DELTA-8 POWDER, with a high potency beyond 19.6% & bioavailability greater than 95%, this ultra effective isomerized cannabinoid is changing the game for human neurological therapeutic relief.
This New Water Soluble Nano Powder is instantly miscible in any liquid, and is great for mixing accurately dosed drinkable shots any time of the day. Our clients report significant cases of "total body high", "euphoric & creative sessions" and "unlocking epiphany-esque neural pathways" to name just a few.
Fastest Acting High-Load Delta-8 On The Market!
Isomerized From Industrial Hemp (CBD Isolate)

Mixes instantly in liquids

95%+ Bioavailability (epithelial absorption)



Strong Neurological Therapeutic

Psychoactive (non-addictive/non-habit forming)

Includes FREE 2oz Mixing/Shot Bottle!
Description
Dosage Guide
Additional information
Reviews (20)
Description
DELTA-8 (THC) | Water-Soluble Nano Powder
Molecular Structure: C21H30O2
Final Form: Water-Soluble Nano-Emulsion Powder
Bioavailability: +95%
Potency (COA): 19.68%
DELTA-8 is an isomer of cannabidiol (CBD), an analogue of tetrahydrocannabinol, which gives this molecule a unique and strong binding affinity for CB1 receptors in the brain and nervous system.
Therefore, with this unique binding affinity to human endogenous receptor CB1, we know that this performant little molecule is psychoactive. Not psychoactive in the same way as Delta-9 THC (which is still mostly illegal in the USA), but due to its double bond on the 8th carbon versus THC's 9th carbon bond…studies show little to no receptor site memory or buildup. Basically put, our DELTA-8 Water Soluble Nano Powder IS NOT ADDICTIVE and DOES NOT BUILD UP TOLERANCE on receptor cells.
Great news: no worries of increasing tolerance to the molecule!
The list of therapeutic benefits for DELTA-8 is growing at a rapid pace, and as more formal science studies become available…the demand for ultra high quality DELTA-8 will skyrocket. Having a water soluble nano form of DELTA-8 in powder format, gives HEMPTIUM™ a distinct and significant presence in the world of botanical therapeutics.
Additional information
| | |
| --- | --- |
| Weight | .2 lbs |
| Dimensions | 2 × 2 × 2 in |